After two years since the last Fieldays event, reconnecting was better than ever at the Health and Wellbeing Hub. This year the health hub at Fieldays in Hamilton was located at a permanent building and had more than 33,000 visitors through the doors, up from 25,000 visitors in 2019.
Mobile Health works in close partnership with the National Fieldays Society to bring the Health and Wellbeing Hub to visitors during the four-day event. The goal is to bring together all the existing health organisations under one roof, working together to engage, inform and provide advice to people about their health and wellbeing and take positive steps.
This year we had 33 exhibitors in the hub, many familiar and some new, and all fully enjoyed being part of the health hub experience and having the opportunity to reach their relevant audience at scale.
The hub opened with a pōwhiri by the Māori King, Kiingi Tuheitia Potatau TeWherowhero Te Tuawhitu, followed by a visit from Associate Minister of Health Dr Ayesha Verrall, who visited many of our exhibitors including Stroke Foundation, Age Concern, NZ College of Midwives and the Waikato District Health Board diabetes service stands. Hon Andrew Little, Minister of Health also paid a surprise visit to the hub.
Some exhibitors cited having quality engagement with visitors, and when asked to share stories of meaningful interactions, they had plenty to share.
Nic Russell from the Pindrop Foundation, which provides education, information, support and advocacy in cochlear implants for adults, says "Partners of those affected were in tears about the level of frustration within their relationship because of the severe hearing loss and not knowing there was another option when hearing aids were no longer giving benefit. Others who were frustrated because the loss was impacting the relationship with their young grandchildren who they couldn't effectively communicate with."
Jo Chapman, business development manager from Diabetes New Zealand stated 1,400 people visited their stand. She says of one interaction the team had included busting myths about diabetes when a person had only heard from a general practitioner, and they felt confused about their condition. And helping someone who required a cross section of support from other services.
Jo de Lisle, HealthShare Limited (Love Your Liver – Hep C) says they had a target of 90 tests a day and achieved 364 tests across the event which exceeded expectations. They also completed 617 mini education sessions.
Media links
• Breakfast TV – Mobile Health and Bowel Cancer NZ
• Maori TV – Rural Support Trust
• Fieldays Online – Mark Eager, chief executive of Mobile Health 'Taking the pulse of rural health'
• Fieldays Online – Rural Women 'Maternity care in our rural communities'
Participating organisations
Massey University, Ministry of Social Development, Triton Hearing, NZ College of Midwives, Age Concern NZ, Diabetes NZ, Rural Women, Waikato District Health Board (critical care, renal and diabetes, Sepsis Trust NZ, YouthIntact, COVID-19, oral care, cervical/breast screening, national bowel screening and mental health services), Melanoma NZ, Rural Support Trust, Breast Cancer Foundation NZ, NZ Rural General Practice Network, Eden Sleep, Love Your Liver – Hep C, Pinnacle Health, Anglesea Pharmacy, Bioptron Light Therapy, Rock It Boards, Bowel Cancer NZ, Emergency Consult, Kidney Health NZ, Pindrop Foundation, Prostate Cancer NZ, Stroke Foundation, The Glob, Tech Users Association (TUANZ).
View 2021 Fieldays photos here.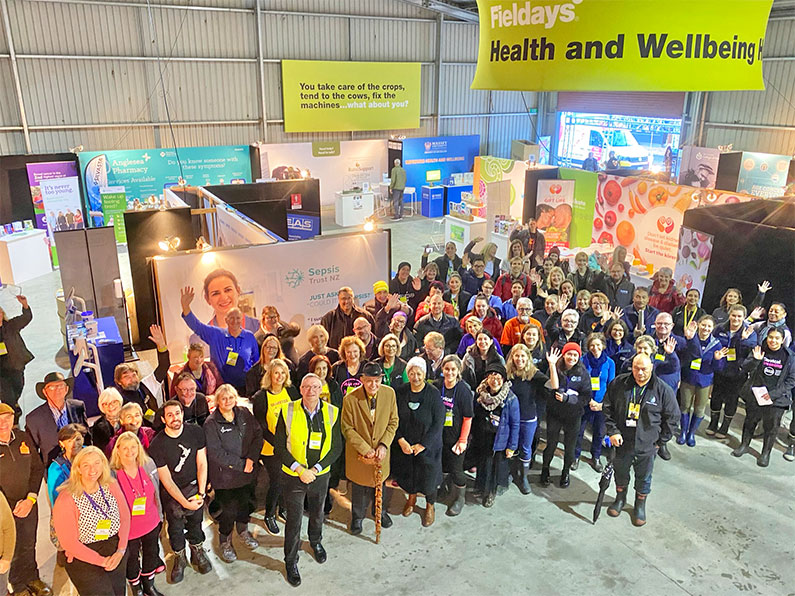 Pictured above: Health and Wellbeing Hub exhibitors and the Māori King (centre) on their first day of Fieldays 2021.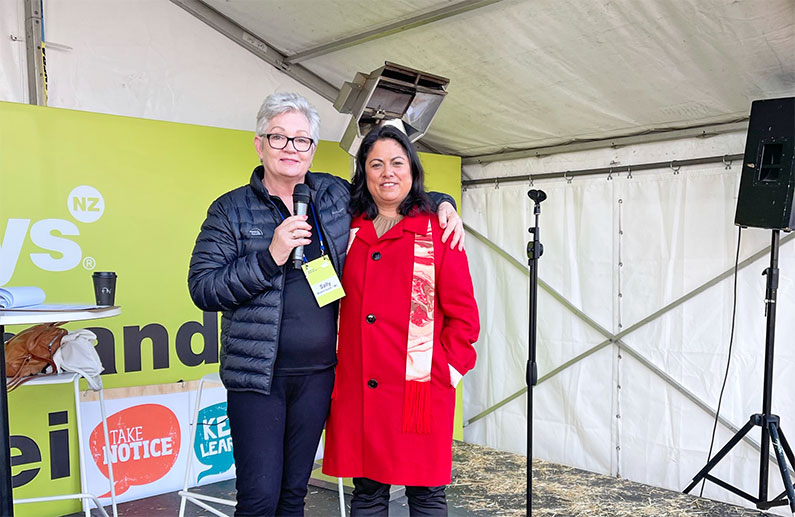 Pictured above: Sally Lane, Health Hub MC with Dr Ayesha Verrall, Associate Minister of Health.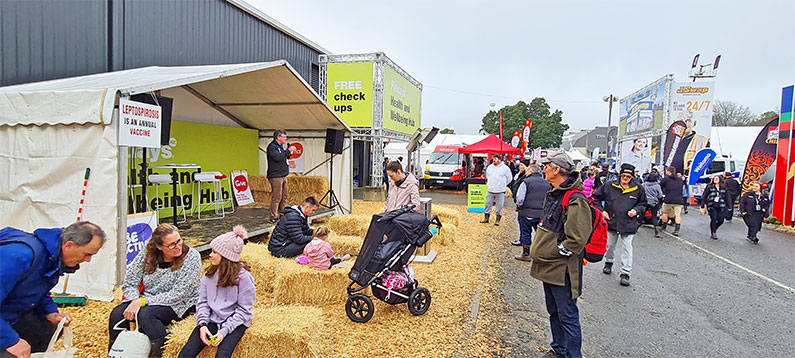 Pictured above: Dr Jo Scott-Jones, Medical Director, Pinnacle Health talks to the crowds at Fieldays. 
Pictured above: Andrew Little, Minister of Health with the critical care team, Waikato District Health Board stand.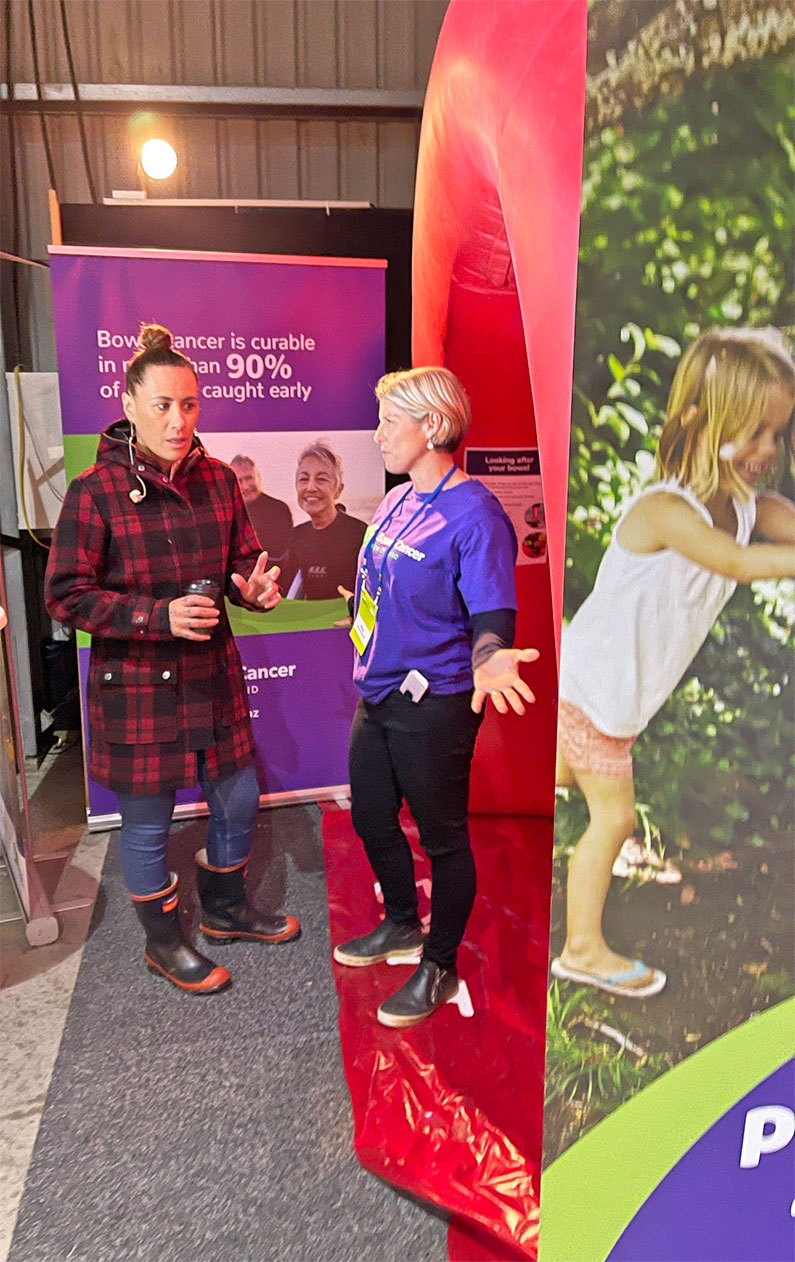 Pictured above: Jenny-May Clarkson, sports commentator and television presenter visits the Bowel Cancer NZ stand.