POD - Portable Operating Departments
Portable Healthcare Facilities
Mobile Health has partnered with Q-bital Healthcare Solutions in Australia and Vanguard Healthcare Solutions to make portable healthcare facilities available in New Zealand. The units are manufactured in Europe, with final construction completed in Australia, ensuring the units meet all Australian and New Zealand standards.
Fully self-contained, the units can be delivered for medium or long-term leases.
The video below is a walkthrough of a portable operating theatre, which has been fitted out at the Q-bital works in Brisbane to Australian and New Zealand conditions and standards. Starting from the staff changing area, the tour first enters a multipurpose space (sometimes used for pre-anaesthetic) then through the double doors to a large open theatre space, utility space followed by the scrub room.
Unprecedented Demand
The New Zealand health system faces an unprecedented demand for planned care interventions from a growing and aging population. There is limited public and private sector capacity, and it is slow and expensive to bring large capital expenditure projects online. Many regions also reduced planned care delivery during the pandemic, exacerbating the problem, and further increasing the expected future demand for treatment.
Mobile Surgical Unit
The mobile surgical unit can efficiently move operating capacity to regional areas where there is high demand for elective surgery. The surgical unit will significantly increase the availability for short-medium term projects once the MSU2 unit is on the road in early 2024. To support equitable access some priority may be placed on supporting smaller regions where there are limited alternative options. We encourage areas that need more significant and ongoing capacity larger to consider PODs to add additional volume to their existing facility.
PODs – Modular and Flexible
Throughout Europe, modular healthcare facilities have proven to be a flexible and cost-effective way to quickly build additional capacity for dental, endoscopy and surgical services. Mobile Health, an established New Zealand health provider, has partnered with Q-bital in Australia and Vanguard in the United Kingdom to bring modular facilities to New Zealand. The units can be deployed to a single location, or with co-ordination can be moved between selected locations within a region.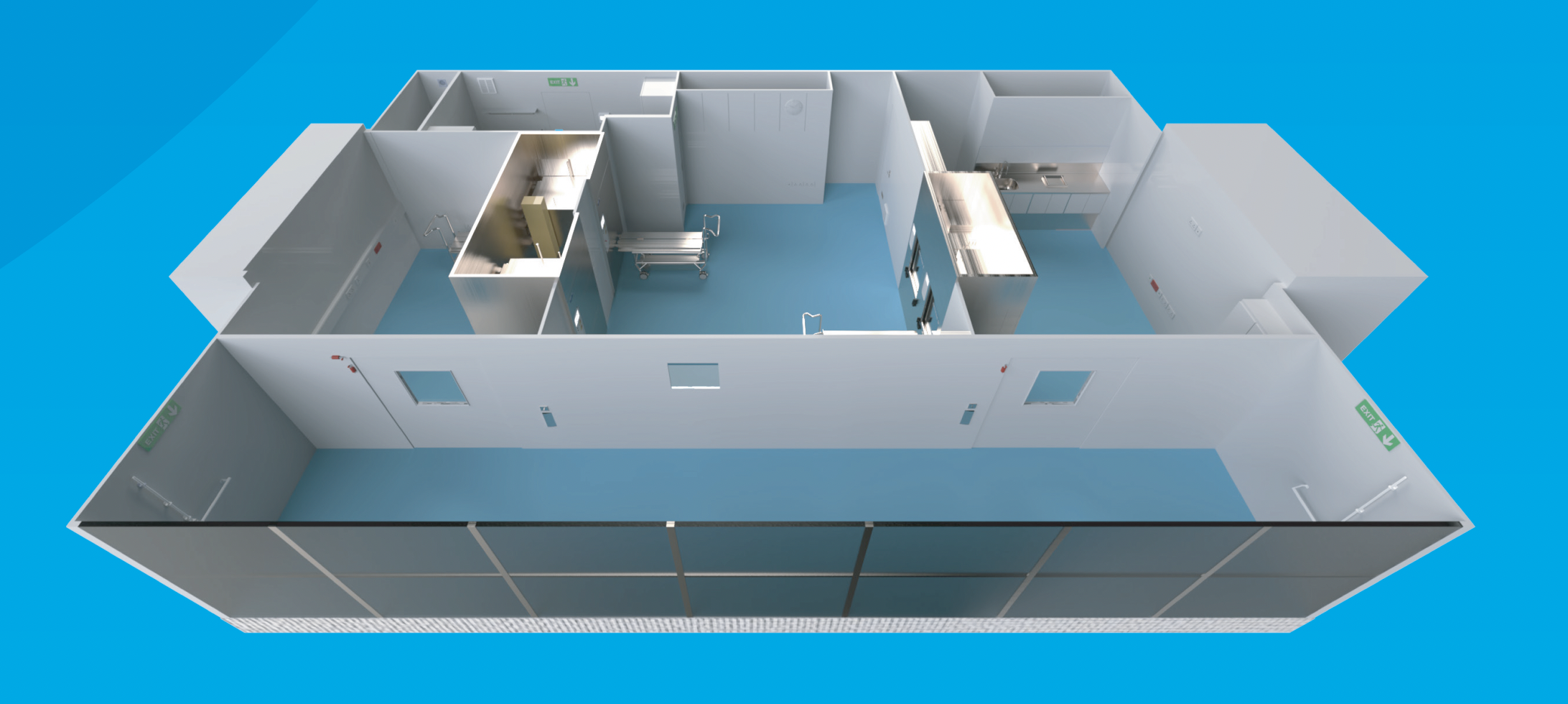 More capacity
Portable or modular facilities bring more surgical capacity to a region. Rather than competing with other services to secure the limited existing capacity in the sector, this increases the available pool of facilities in the region.
Independent or integrated
You can choose to integrate a facility tightly with existing facilities or to have it operating quite independently. If there is additional capacity onsite – for example, in reception or recovery – it could join in with that capacity. However, if the facility is stretched, then it is proposed that the module facility would be more independent – with its own reception and patient waiting area.
Keeping it local
While the facility is provided on a lease arrangement, from a patient and staff perspective, the facility is part of the provider's facilities that it provides. Outsourcing to an offsite hospital does not offer the same continuity of service as treating patients on your main or satellite campus.
Available quickly
We have a limited opportunity to secure modules available in Australia. These can be shipped to New Zealand and be operational from early 2023. If modules are supplied out of Europe then this adds several months to implementation schedule.
Tours of some Australian facilities
Here is a sample of some of the facilities Q-bital has been operating in Australia since 2018
Facilities available:
A wide range of facilities is available to operate either standalone or integrated into existing facilities. Some of the units are listed below, but we encourage you to speak with us to see how we can meet your requirements.
Operating theatre
Dual procedure rooms
Endoscopy suites, including reprocessing
Portable wards
CSSD units
Sample – Two Module Facility (two procedure rooms)
This solution utilises two modules to create a facility that would work well when integrated with some hospital services such as reception, admission, second-stage recovery and discharge. The dual-purpose module includes a clean/dirty area for scope reprocessing, so it could be a multi-purpose facility.
Dual Purpose Module (Top)
reception/waiting area
consulting room
up to five-bed recovery
16.1m long x 8.48m wide
Dual Procedure Module (Bottom)
two procedure rooms
16m long x 7.927m wide
Multiple Specialties
While we can build a specialist dental facility, with a little more planning, the facility can be set up to service a broader range of specialties. The mobile surgical unit – for example – carries equipment and instruments for a wide range of specialties and procedures.
Some specialties which should be considered for a modular facility:
Dental
Endoscopy
Gynaecology
General surgery.
Design and Planning
A 'six stages to success' assessment and communications-based methodology are used to create a partnership supporting best value. Following the stages will aid in the development of a risk-mitigated approach for additional or replacement capacity that includes an insight into your requirements, an assessment of the available sites and a plan for effective delivery and operational implementation.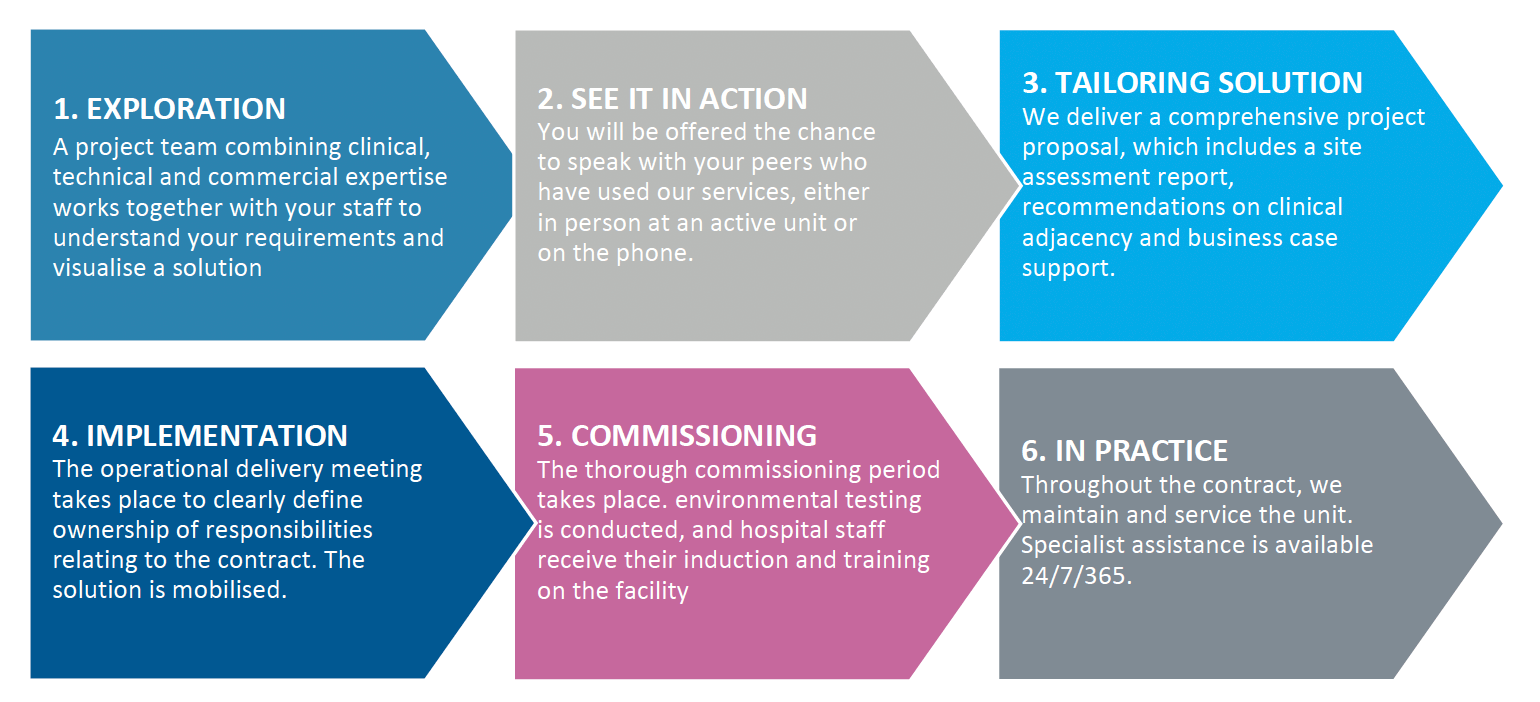 Important considerations
When developing a modular facility at an existing site, there are some advantages if existing services can be provisioned, for example – water, waste and electrical. Considerations include:
Resource consent
Building consent
Fire regulations.
Services
Services required will vary based on the type and number of modules, but typical services required are:
Power – 400V 3 phase (Ward 63 kVA, Dual procedure room 125kVA, Endoscopy unit 125kVA)
Water – 22mm supply with 2-4 x ¾" brass taps (min 38 bar pressure each)
Waste – Single output into standard PVC pipe with trap.
A diesel power generator is available if site power is not viable to provide. (Please note, this is a single power source, and an additional generator will be required if an emergency backup is also needed)
Optional services that can be connected to the main hospital buildings include: Fire panel, IT network, telephone circuit, nurse call, porter call, code call, security via swipe access, security alarms, security CCTV, medical gasses.
Build and Commissioning
Final fix in Australia: The modular units will be localised in Brisbane to ensure they meet all required AS/NZS standards, such as the correct electrical sockets. Unit modifications can be undertaken at an additional cost.
Shipping to site: The units will be shipped to Auckland and delivered to the site. Standard pricing excludes storage at port or between port and customer if the customer site is not ready at the time of the unit's arrival and release from customs.
Site works: What site works are required will be determined throughout the process, as will the cost and responsibility of each item. The site works: Footings, ground levelling works, corridors, ramps and steps, platforms and walkways, will be an additional cost to the modular units.
Enabling works: Please note enabling works remain to be determined, as is the need for aspects like cranage due to access or orientation.
Installation and commissioning: Q-bital will install the modules and commission them, including all required quality validation. The units will be handed over to Mobile Health as the local operator. Mobile Health will train and induct facility staff.
Operation: Mobile Health will be the local contact for any service or technical issues. Q-bital will provide backup support to Mobile Health and technical teams when required and during periodic routine maintenance.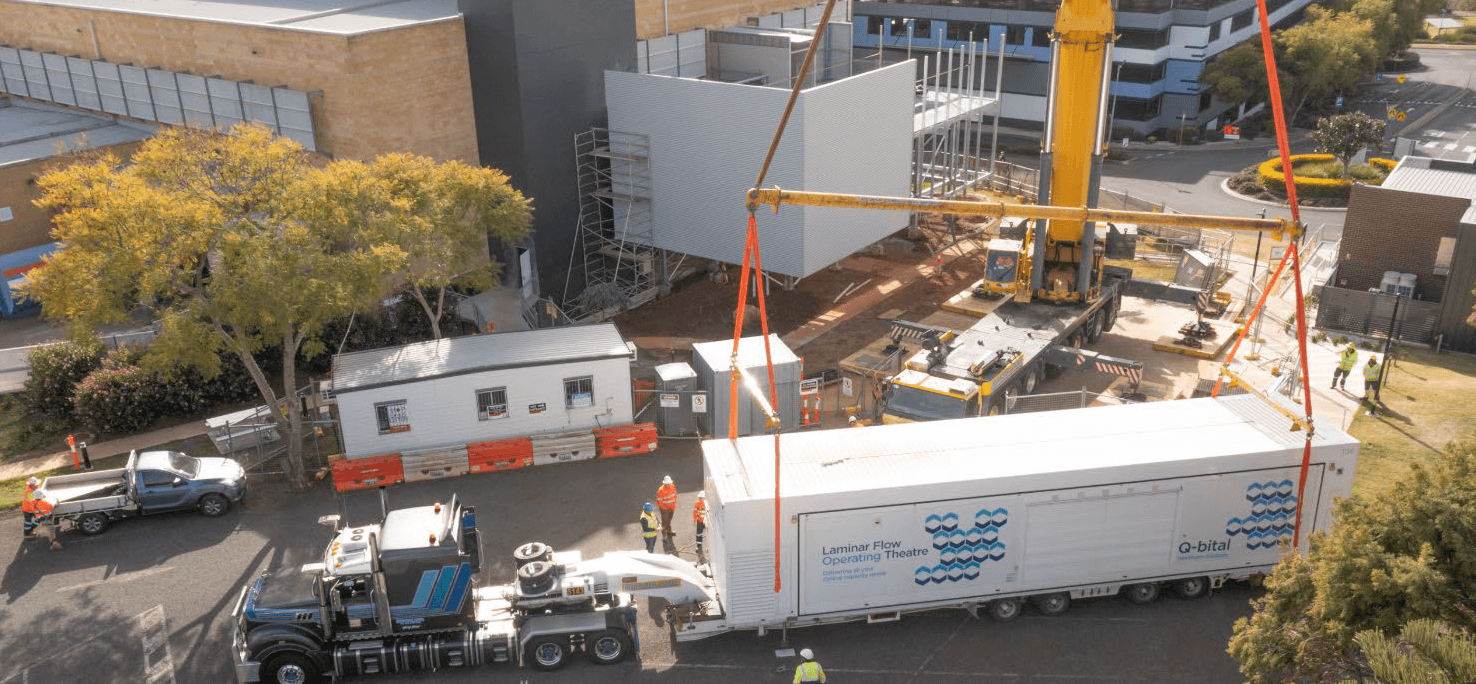 A Flexible Solution
Mobile Health has the proven capability to provide a full-service outsourcing solution. However, we would like to work together in the planning phase to establish which organisation should provide elements such as staffing, equipment, instruments and consumables.
Change over time: Modular facilities are often used to build capacity while a permanently fixed theatre suite is commissioned. In these instances, it may be viable for Mobile Health to employ many of the staff initially, but as the provider requires staff in preparation for the new facility, the mix of provider staff working in the modular facility may increase.
The location of the facility, and how integrated or independent the provider want it to be, may also influence the provision of the following services:
Staffing
Facility manager
Reception
Nursing
Orderly
Surgeon
Anaesthetist
Anaesthetic technician
etc
Process
Patient booking
Pre-op information
IT system
Follow-up
Feedback
Reporting
etc
Equipment
Scopes
Anaesthetic machine
Anaesthetic trolley
Procedure tables
Ventilators
Patient beds
Patient monitors
Consumables
etc. 
Equipment
The facility and all fixed equipment will be certified to the relevant standards.
The dual procedure rooms include:
75kW AHW and HEPA filtration
Plumbed medical gasses (oxygen, NO2, medical air, tool air and suction)
Medica gas alarm in each procedure room and in the gas bank. The system can be plumbed into the hospital gasses or use pairs of G-size (80kg) bottles. The modules come with hosts to get the bottles onto the gas platform. We also provide a gas bottle trolley for ease of transport
There is a 90min UPS for medical outlets, but AHU switches off.
The module shells include:
Fire panel can be separate or integrated with hospital FIP
Waiting room furniture, desks, tables, benches, small bar fridges, shelving, drawer sets etc
Monitoring brackets will be hung at no cost if the customer supplies the brackets
Up to eight cantel transport carts (red/green) – excluding consumables.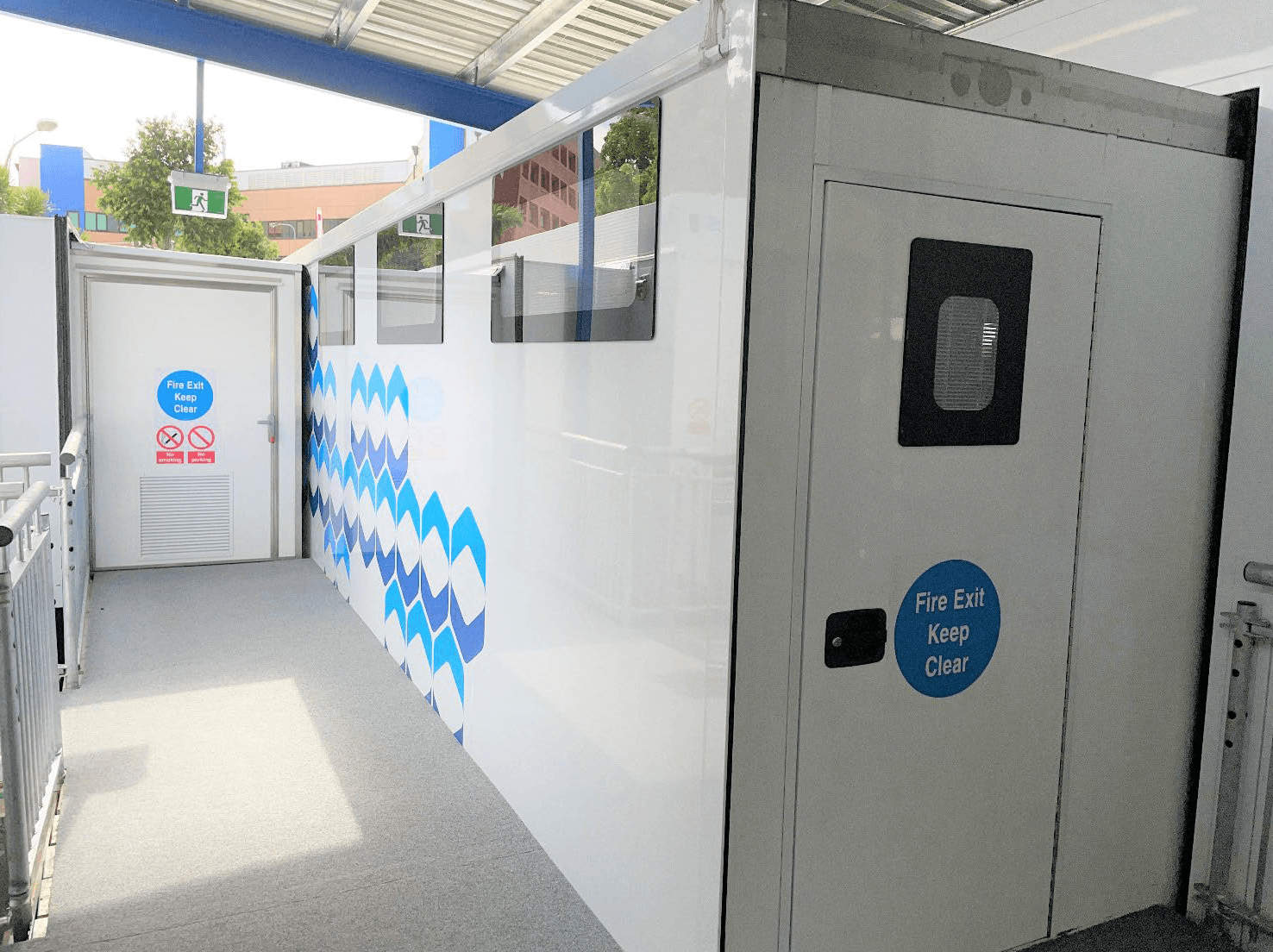 Additional Reading
Some of the evidence supporting the benefits of modular health facilities can be found in our supporting appendix.