Mobile Surgical Unit – Te Waka Hauora
The Mobile Surgical Unit – Te Waka Hauora is a modern fully-equipped operating theatre, designed and built to be used for a wide range of day surgery. Through excellent utilisation of space, once inside it is much like any other operating theatre. Once parked, the surgical unit deploys its self-levelling hydraulic ram stabilisers and at the touch of a button the sides of the trailer unit expand outwards, doubling its width. While power is sourced from a nearby building (usually the local hospital or medical centre), the onboard UPS provides additional emergency power autonomy.
Overall the unit is 20 metres long and weighs 42 tonnes. The unit is moved by a customised 2020 Mercedes-Benz Actros.
Photographs of the construction of the unit can be found on our Flick-r photo album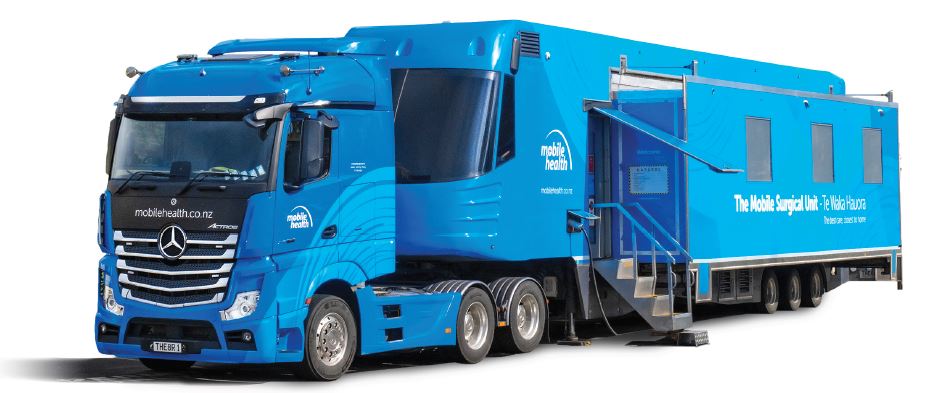 The unit travels through Aotearoa New Zealand, regularly crossing between islands in the InterIsander Cook Staight ferry. The unit only requires a pilot vehicle on a few sections of road such as the Takaka Hill through the clever steering assistance on the trailer, which enables the wheels on three rear three axles to be steered up to 30° degrees. Upon arriving at each site, the driver has the task of parking the unit with enough precision to maintain ease-of-access to the unit itself, to not obscure traffic or access ways to surrounding buildings and to be within reach of the cables required to provide crucial power to power it during surgery.
Floorplan
Patients enter the the mobile surgical unit using the stairs on the side of the unit which leads to a waiting area. With an admin area to the left, moving right through doors leads to the operating theatre. Following surgery, patients move to first stage recovery near the back of the unit, before leaving when ready through the back of the unit. Wheelchair and/or bed access is through the lift at the rear of the unit.
Photographs of the Mobile Surgical Unit
We have a large number of photos on our Mobile Health Flickr page. We are open to people using and sharing our photographs but as a courtesy please contact us for permission first. Below is a selection of highlights.
Setting up the Mobile Surgical Unit
This video shows how the unit sets up at each side. After parking hydraulic rams level the trailer unit. The large slide-out sides  then move out before dropping approximately 10cm to create a flat floor in the operating theatre. The team then unstrap all the equipment from the sides of the unit and deploy in the theatre. After a detailed clean the unit is ready for operating.