Fieldays Health & Wellness Hub
Fieldays Health & Wellness Hub
Mobile Health works in close partnership with the National Fieldays Society to run the Health & Wellness Hub at Fieldays each year. The goal of the Hub is to consolidate the majority of the health organisations under one roof, and to help organisations create interactive and interesting stands that will engage and inform people about their health, and encourage them to take a positive step towards better health.
Mobile Health works with all participating organisations to ensure they are the right fit for the hub, and that activities will be interesting, informative and engaging for visitors. We are happy to talk through any questions that you may have if you are interested in participating. Contact us.
The National Fieldays Society are very supportive of the Health Hub. In addition to underwriting many of the expenses for the hub, they also make some grants to offset some of the site fees for a number of charitable organisations. Fieldays team do much of the back-end logistics including stand booking and allocation, ticketing etc.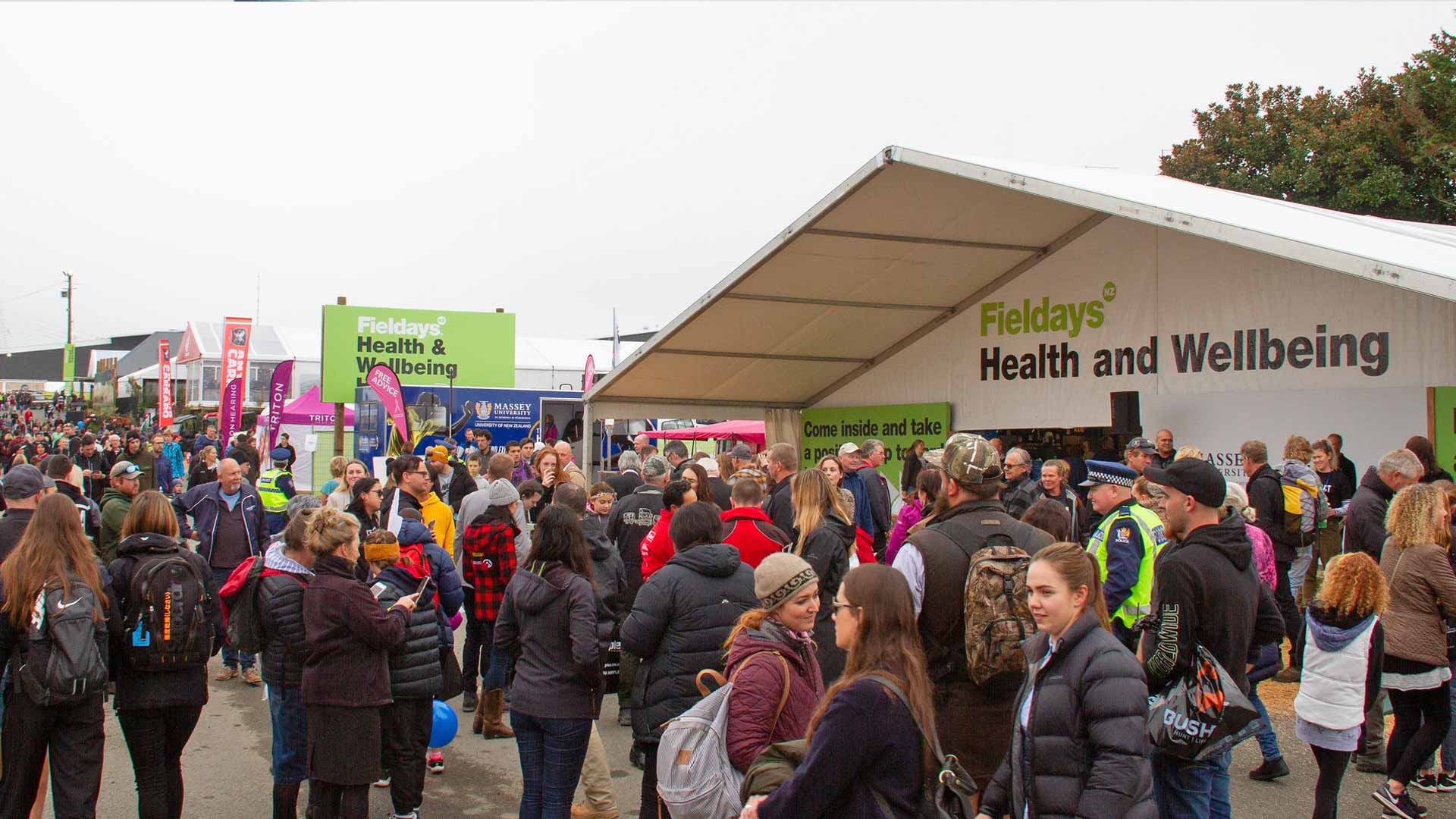 2024 Health and Wellbeing Hub 
Event date: 12 – 15 June 2024
Hauora Taiwhenua Health and Wellbeing Hub, supported by Mobile Health, will be back at next year's Fieldays. More details to come… 
2023 Health and Wellbeing Hub 
This year 25,000 visitors stepped into the Hauora Taiwhenua Health and Wellbeing Hub during the four-day Fieldays event and prioritised their wellbeing. The health hub accommodated 34 exhibitors manned by dedicated healthcare professionals, including volunteer doctors and health students, who provided valuable information including personalised insights and actionable recommendations to help make informed choices about lifestyle and overall health.
The event, which saw more than 105,000 visitors attend Fieldays, was a great success, and we would like to thank all the staff and volunteers who participated.
Photos
View the Fieldays 2023 photos here.
2022 Health and Wellbeing Hub 
Fieldays 2022 allowed the rural community to reconnect once again, after the event was postponed to November due to the pandemic. This year Hauora Taiwhenua Health and Wellbeing Hub, supported by Mobile Health, homed 45 organisations and businesses (up from 34 the year before) and saw 22,000 visitors through the doors; although the numbers were down compared to the previous year, there was plenty of engagement both inside and outside the hub. An impressive 450 staff and volunteers helped run the hub, and staff enjoyed having meaningful interactions with visitors who wanted to better their health.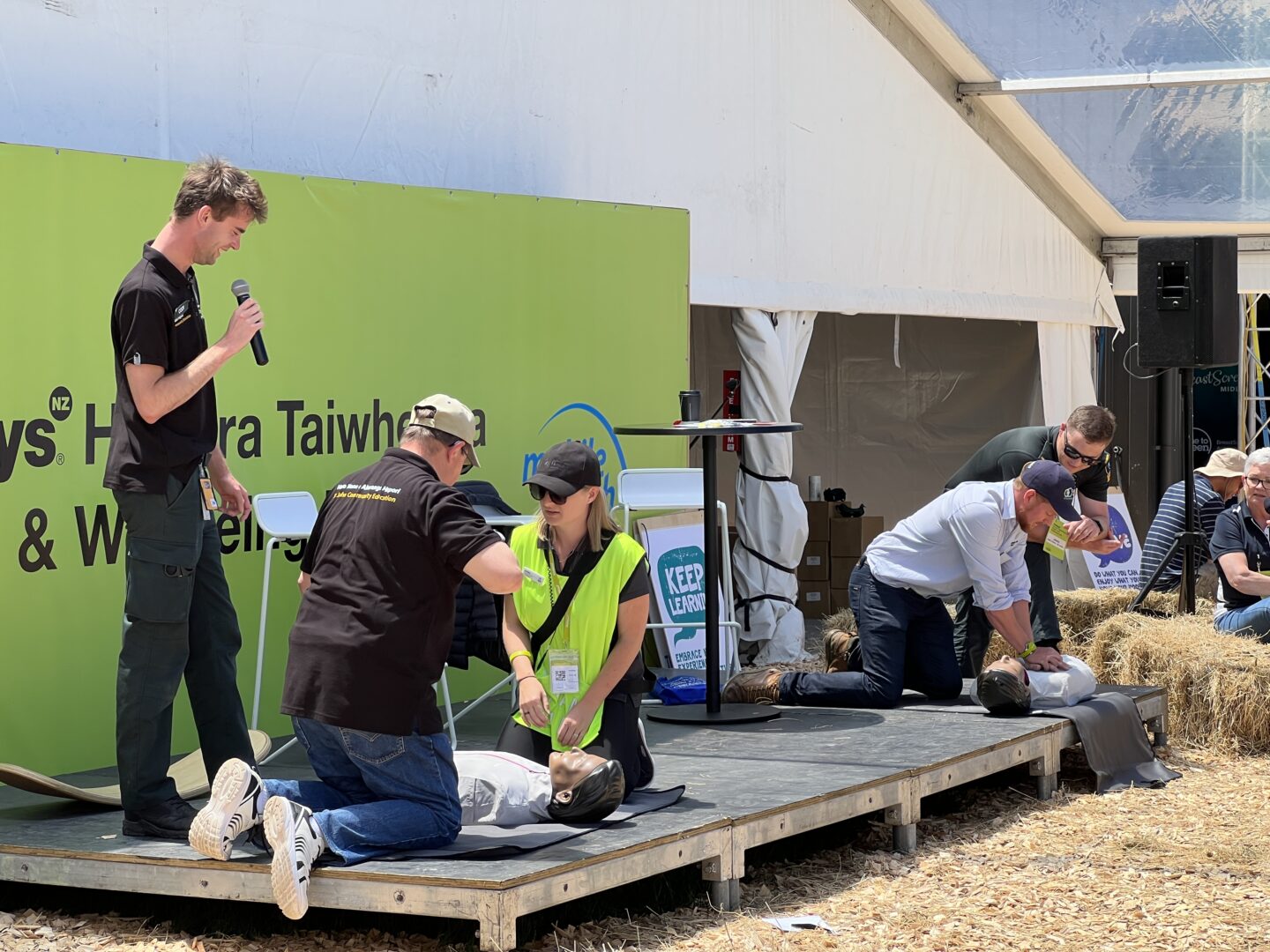 Pictured above: Members of the public participate in CPR on the front stage
2021 Health and Wellness Hub – SOLD OUT
After a cancelled event in 2020, we are pleased to announce that the Health and Wellness Hub is SOLD out. 
Show Dates for 2021:
Health Hub Pack In: Tuesday 15th June 2021
Show Days: Wednesday 16th June – Saturday 19th June 2021
Apply for a Site:
General applications closed in December 2020 with site allocations being made in early 2021. As recognition of the growth of the Health & Wellness Hub, this year the hub moves into a large permanent building; we are pleased that the hub is Sold Out for 2021
Register with Fieldays:
To apply for a site you will need to visit the Fieldays Exhibitor Website, create an account and login to the Fieldays exhibitor portal. It may possible to be put on the waitlist for spaces.
Download the Prospectus: Once you login you will then be able to download the current show prospectus, which includes the following information:
Event layout maps, including redeveloped areas for 2021
Site sizes and prices
Exhibiting criteria for specific areas
How to apply for a site
Fee payment requirements
Exhibiting conditions

 
2019 Fieldays a Success
The Health Hub concept was first piloted in 2017, and since that time it has gone from strength to strength. Each year over 30 organisations and businesses bring life to the hub, in 2019 over 25,000 people visited the hub during the 4-day event.
In 2019 participating organisations included: Mobile Health, Ryman Healthcare, The Barter Barber, Massey University College of Health, Massey University School of Sport Exercise and Nutrition, Bay Audiology, Dalton International, Mole Map NZ Ltd, Homecare Medical, Ministry of Social Development, Aspire Chiropractic, Triton Hearing, Plunket, NZ College of Midwives, Age Concern New Zealand, Diabetes New Zealand, NZI Rural Women New Zealand Business Awards, Rural Women, The New Zealand Sepsis Trust, Waikato District Health Board, Cardiology and cardiothoracics, Critical Care Department, Renal & Diabetes Services, WaiKids, YouthIntact, Mental Health, Melanoma New Zealand, Prostate Cancer Foundation of New Zealand, Rural Support Trust, Breast Cancer Foundation NZ, New Zealand Rural General Practice Network.
Read: NZ Herald – The Big Show Which Saves Lives
Read: Mobile Health – 2019 Fieldays News Story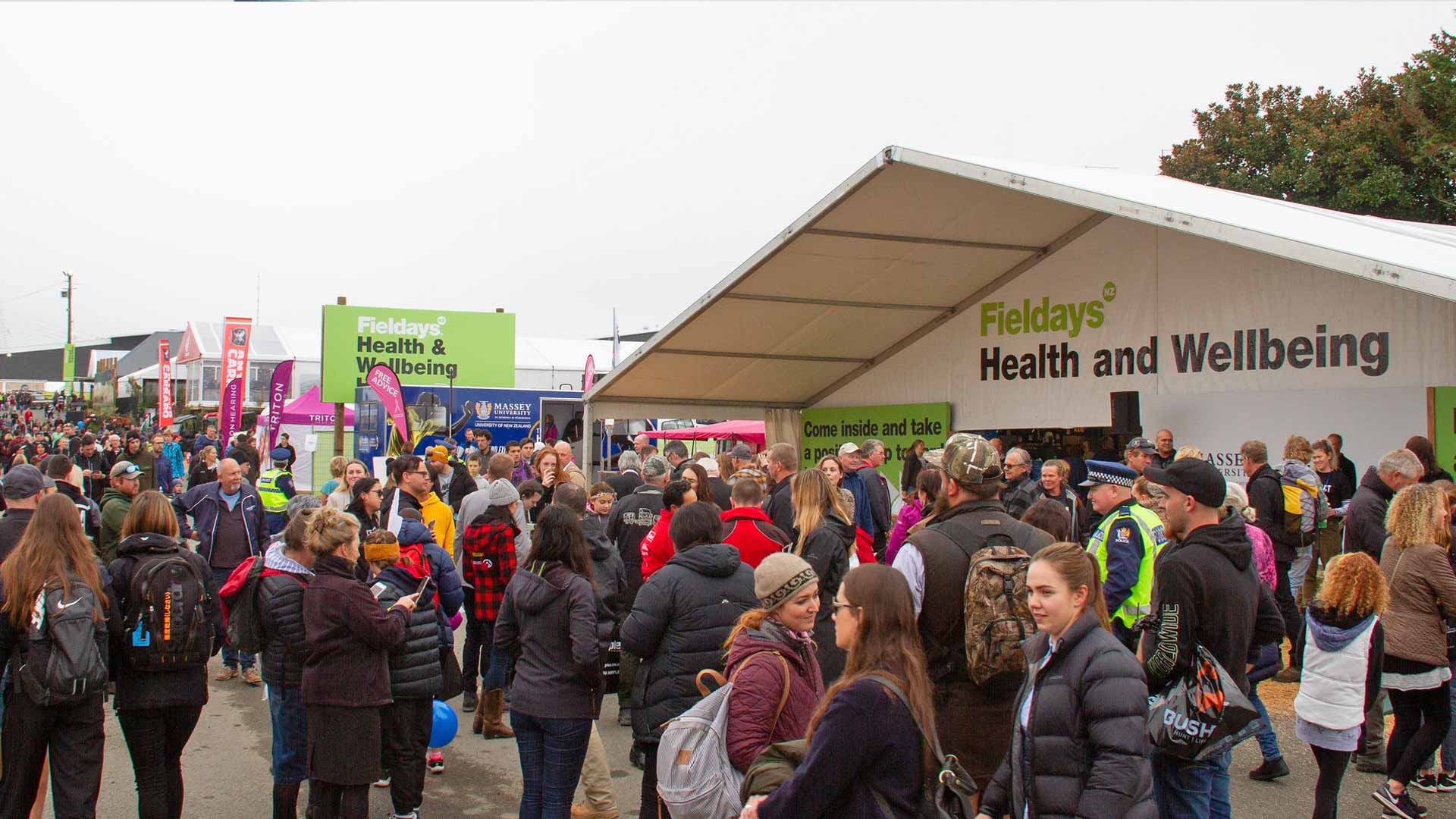 Photos
Below are photos from the last event. To view photos on all previous years view them on Flick-r 
Information for Exhibitors
Plan Ahead: The Fieldays show is very large with over 1000 exhibitors. It is very important to make all bookings early.
Accommodation: With many exhibitors booking accommodation over a year ahead, finding last minute accommodation can be extremely hard to find and expensive. Book early, and use local staff where possible.
Transport: Co-ordinating transport can also be a big help, we suggest you beat the traffic and arrive early, enjoy a good breakfast at Fieldays before the day starts.
Prepare Your Staff: The show is 4 days long so it is important staff know what to expect including the early mornings and the long days. During the event staff should stay hydrated, eat well, take breaks and sleep well. Many organisations will roster staff on for only 1-2 days during the event so when they are there they can be fresh and engaged.
 A Helping Hand: The team from Mobile Health will be on hand to ensure the show runs smoothly for everyone, and staff have an enjoyable experience. The staff area where we have fruit, hot drinks, espresso coffee & some seating for staff during breaks is one of the most loved areas in the Hub. We encourage staff to arrive early each day to beat the rush. We have a team warm-up session each morning to prepare the body, and also quick talk to set the expectation for the day.