Equitable Access to Health care
One of the guiding principles of The New Zealand Health Strategy is equitable access for all New Zealanders to a comprehensive range of health and disability services. With more than 750,000 people living and working in rural areas, the services we provide on the Mobile Surgical Unit – Te Waka Hauora are clearly focussed on ensuring these patients are treated where they live and work. Our promise is to deliver a safe, friendly and quality-driven service.
Services We Deliver
Mobile Health provides a wide range of services to support rural health in all areas of Aotearoa New Zealand. In total there are three broad service categories and while they are reported separately, each is closely inter-linked. Mobile Health is uniquely positioned to provide the following services on a national basis.
Elective day surgery
Rural Health Education Hub
Telehealth Resource Centre
The Rural Health Education Hub provides continuing  professional development to rural health professionals in five different areas:
Surgical Skills Nurses
Surgical Skills Doctors
Advanced Skills
Continuing Professional Development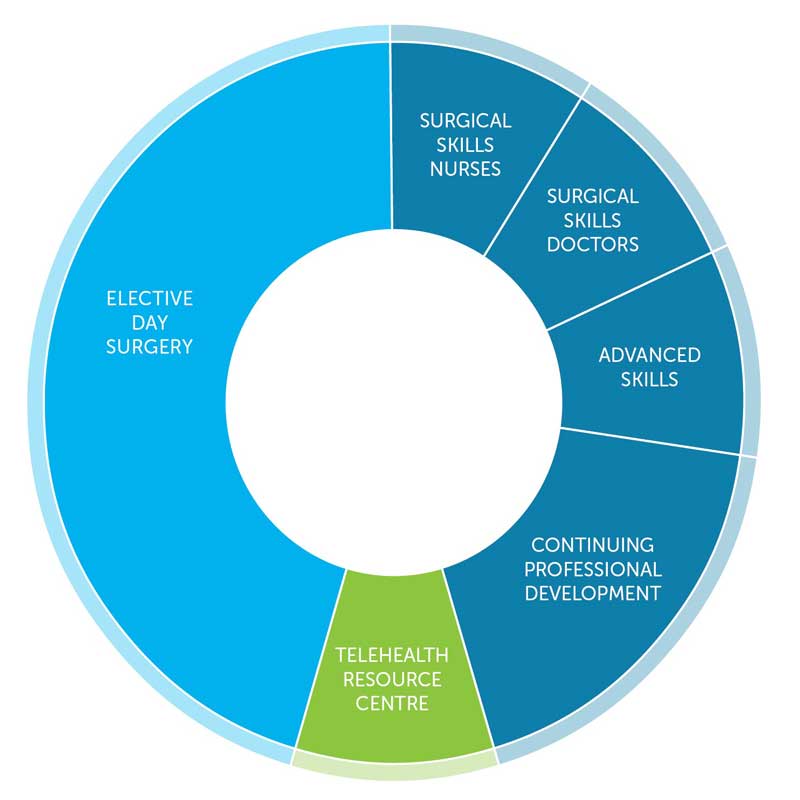 Strong and Vibrant Rural Communities
With more 750,000 New Zealanders living and working in rural areas, Mobile Health continues to focus on enhancing rural health and wellbeing. Our services directly support patients by providing equity of access, as well as supporting the rural health workforce with access to training, education and continuing professional development.
REFLECTING THE COMMUNITIES WHERE WE OPERATE, 62% OF PATIENTS SELF-IDENTIFIED AS NEW ZEALAND EUROPEAN and 29.3% MAORI. IN SOME HOST SITES 80% OF PATIENTS IDENTIFIED AS MAORI.
Rural Proofing
In June 2018 Minister for Rural Communities, Damien O'Connor, launched a Rural Proofing Policy to ensure policy-makers take into account the unique factors affecting rural communities, such as distance from vital services, isolation and a reliance on the primary sector for employment.
Partnering with Manatū Hauora Ministry of Health
All services provided by Mobile Heath are funded through a contract with Manatū Hauora Ministry of Health. The most recent contract runs to 30 June 2025. The Manatū Hauora Ministry of Health says "We are pleased to continue supporting Mobile Health and its work with Te Whatu Ora – Health New Zealand. For many New Zealanders, having the opportunity to receive care on the surgical unit, closer to home makes their electives care journey a better experience. The surgical unit also provides support and capacity to Te Whatu Ora – Health NZ and health workforce, particularly in rural communities. We look forward to working with Mobile Health during the current contract period."
Working with Te Whatu Ora – Health New Zealand 
We maintain a close working relationship with Te Whatu Ora – Health New Zealand regional hospitals to determine surgical specialties for each town and also allocate patients to the mobile surgical unit's operating lists based on prioritised clinical need.
Used effectively and efficiently, this additional capacity can significantly help Te Whatu Ora – Health New Zealand meet its elective surgery targets. 
Working Alongside Host Sites
The mobile surgical unit operates on a regular five-week circuit throughout rural New Zealand, operating out of 25 different rural locations. Strong local partnerships are key to the service. More than half of the sites have completed more than 1,000 operations, and many more are close to this figure. We truly appreciate the support we receive from these rural health providers.
"We, the residents of the Clutha area, are so lucky to have such a wonderful service of five weekly visits from the mobile surgical unit. It has saved so many patients over the past 17 years travelling out of town for their operations. We are also very fortunate to have such a wide range of specialists happy to come to Balclutha and operate on the surgical unit at least twice a year. This is a fantastic service and very much appreciated." – Judy Nelson, a resident of Balclutha and staff member at Clutha Health First.