At 11-years-old, Cara Enright's grandfather became very unwell. As she stood by him in one of the most vulnerable periods of his life, her admiration for him grew stronger. During this time, Cara was exposed to health practitioners who cared for her grandfather – inspiring her with their devoted care.
"As a young girl I was simply inspired by the nurses I was surrounded by and it established a genuine desire to become a nurse," Cara says. Born in Australia, Cara moved to Singapore and then resided in New Zealand where she spent her childhood. "I attended Christchurch Girls' High School then finished my Bachelor of Nursing degree at Ara Institute of Canterbury," she says.
In March 2021 Cara joined Mobile Health for work experience as a student nurse on board the Mobile Surgical Unit and began her journey in the heart of Northland, Kaikohe. Throughout her five weeks on the surgical unit, she describes the team's work ethic as a 'fine-oiled ship'. "Everyone knew their role on the surgical unit and how to carry it out. If one of the local nursing staff was new, or not orientated to the unit – a Mobile Health staff member would always ensure to direct them and assist them in any way possible. I can say whole-heartedly that the team were the most tremendous group of people to work alongside."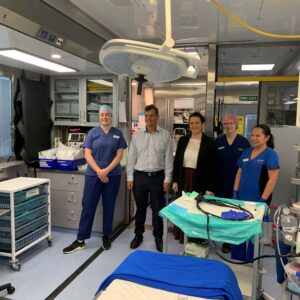 Cara adds, "The local nursing staff would regularly tell me how they enjoyed being on board the surgical unit because of the uniqueness of the environment and the positive atmosphere created by the Mobile Health team. The way the team interacted with the patients and their whānau was also astounding. They did their best to try and make the environment more comfortable, especially for the children coming in for dental work."
When some parents were nervous and needed reassurance about their child's surgery Cara explains that they were always met with a team member who would ensure they understood the process. "Parents would always be consoled and reassured. And when patients were not under general anaesthetic, they would ensure that someone stayed with them to talk them through what was going on and provide a hand to hold if needed. The team taught me such important aspects of patient care."
During Cara's work experience visiting rural communities, it became apparent to her that many patients wouldn't have been able to have their surgery if it wasn't for Mobile Health's visit. "Countless times patients and their whānau would thank the team for their role because for many – they had limited access to transport or a local health facility that could conduct the surgery. Also, many explained that taking time off work and going to the closest hospital for the surgery would have been an issue. It is easily recognisable why the team is passionate as they all work to establish equity for rural communities and can see the positive consequence of their actions."
While travelling from Gore to Queenstown, Cara also got to experience life on the road as she was a passenger on board the Mobile Surgical Unit with Steerologists, Gavin and Jimmy. "Being a passenger on the surgical unit and enjoying the beautiful sights of Aotearoa was phenomenal! Gavin and Jimmy would regularly organise meals for the team and cater to their personal preferences if they enjoyed a particular food. I love cooking! However, my cooking will never live up to Gavin's superb culinary skills!" In Queenstown, Cara describes the environment as 'amazing'! "It was the first day with Chris (Anaesthetic Technician) and Karenza (Clinical Nurse Leader) – they created such a positive and friendly environment that everyone enjoyed. Chris's sensational English humour provided light-hearted entertainment on board the surgical unit.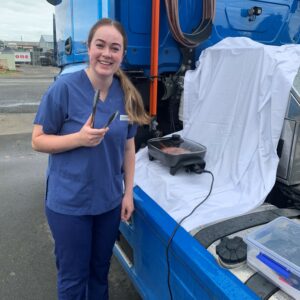 Cara is currently working in the Intensive Care Unit at Christchurch Hospital and plans to work in rural Australia, and Europe. However, she states that she would love to return to Mobile Health after her time overseas. "I can't thank the team enough for making those five weeks a superb experience that I won't ever forget! I hope to return and work on board the surgical unit – it was such a unique experience being able to see different procedures conducted. Just understanding the surgical process and being able to recognise how an environment like that prepares for emergencies has helped me understand preparedness in my workplace today."