Yesterday the Mobile Surgical Unit settled in to enjoy the beautiful sunrise in our new rural location of Geraldine.
The team was warmly welcomed by our site hosts
Mckenzie Healthcare
who were extremely helpful in ensuring our first day was a success. Geraldine is our first South Canterbury DHB location that joins our five-week schedule around Aotearoa, and we look forward to our next visit in June.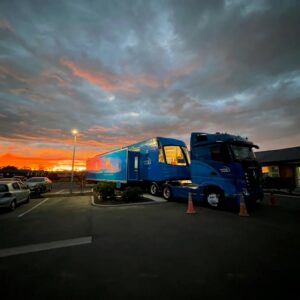 "During the recent refurbishment of the Timaru Hospital theatres, the Mobile Surgical Unit was onsite to provide acute operating cover. Highlights of our visit included four caesarean deliveries and appendectomies. Following this, we explored the possibilities of providing regular elective surgical capacity.
Geraldine has a population of 3,000 making it viable as a regular visit every five weeks," says Chief Executive, Mark Eager.