Having seen the big blue Mobile Surgical Unit – Te Waka Hauora on the road just one year earlier on one of its regular five-week circuits of rural New Zealand, David Mitchell did not anticipate he would one day be having surgery on it. But last year, he swapped the typical hospital setting for a mobile operating theatre that weighs 42 tonnes and is 20 metres long. David shares his story with us.
At 74 years old David (pictured above) was diagnosed with a hernia and was eventually referred to the mobile surgical unit. Last September marked his surgery date and it took place in a friendly and familiar setting in Motueka, which is only 18 kilometres from his home. Following successful surgery, he spent the following two weeks resting, reading and enjoying a "relaxed life" while recovering at home. An avid walker and nature lover who plants significant areas of native trees on his property in Māpua, located west of Nelson in the South Island, David was happy to get back to the things he enjoys. He emerged from his experience with nothing but appreciation and positivity for his experience, citing the surgery as a "great relief".
"I felt very confident about the medical services on the surgical unit and was also very comfortable with it. I had a chance to read up about the unit in news reports and online information beforehand. I felt I understood how it would all work. It was also very helpful that the surgeon, Mr Deacon, came to the waiting room at the old Mōtueka Hospital, introduced himself and explained the operation and what I could expect," David begins.
"I was impressed the operating unit was very well-equipped, the staff were excellent, and I was happy to be having my operation so close to my home. I feel the surgical unit is an outstanding service for smaller communities and for people who need operations, it meets a great need."
Extremely happy with his surgery journey from beginning to end, David wrote a detailed thank you letter to Mobile Health expressing his thanks to the staff who operated on him and for an exceptional medical service. "The level of care from notification to post-operation checks was all that I could expect from my health service."
"To me the surgical unit is a model for greater decentralisation of medical services, particularly operations, ensuring high quality medical services can be delivered to all people, not just to those living in bigger cities," he adds.
The mobile surgical unit is a modern, fully equipped operating theatre which operates by connecting to a host site for power to deliver essential services. This impressive one-of-a-kind vehicle sees the walls of the unit expand to 4.7 metres wide when open and 2.5 metres wide when closed. With 24 rural locations on the surgical unit's itinerary around the country, the unit is well-received in smaller communities where access to healthcare can be challenging. For example, Golden Bay patients would need to travel to Nelson Hospital, more than 100 kilometres away and involves a demanding drive over the Takaka Hill. The surgical unit has visited Motueka 64 times since 2011 and has treated 567 patients.
Every day is different on the mobile surgical unit; up to 12 patients a day, different clinical staff teams, different operations and in some cases some challenging situations. The surgical unit offers great opportunities for staff due to the variety of work involved and being part of a team that has a positive impact on rural healthcare.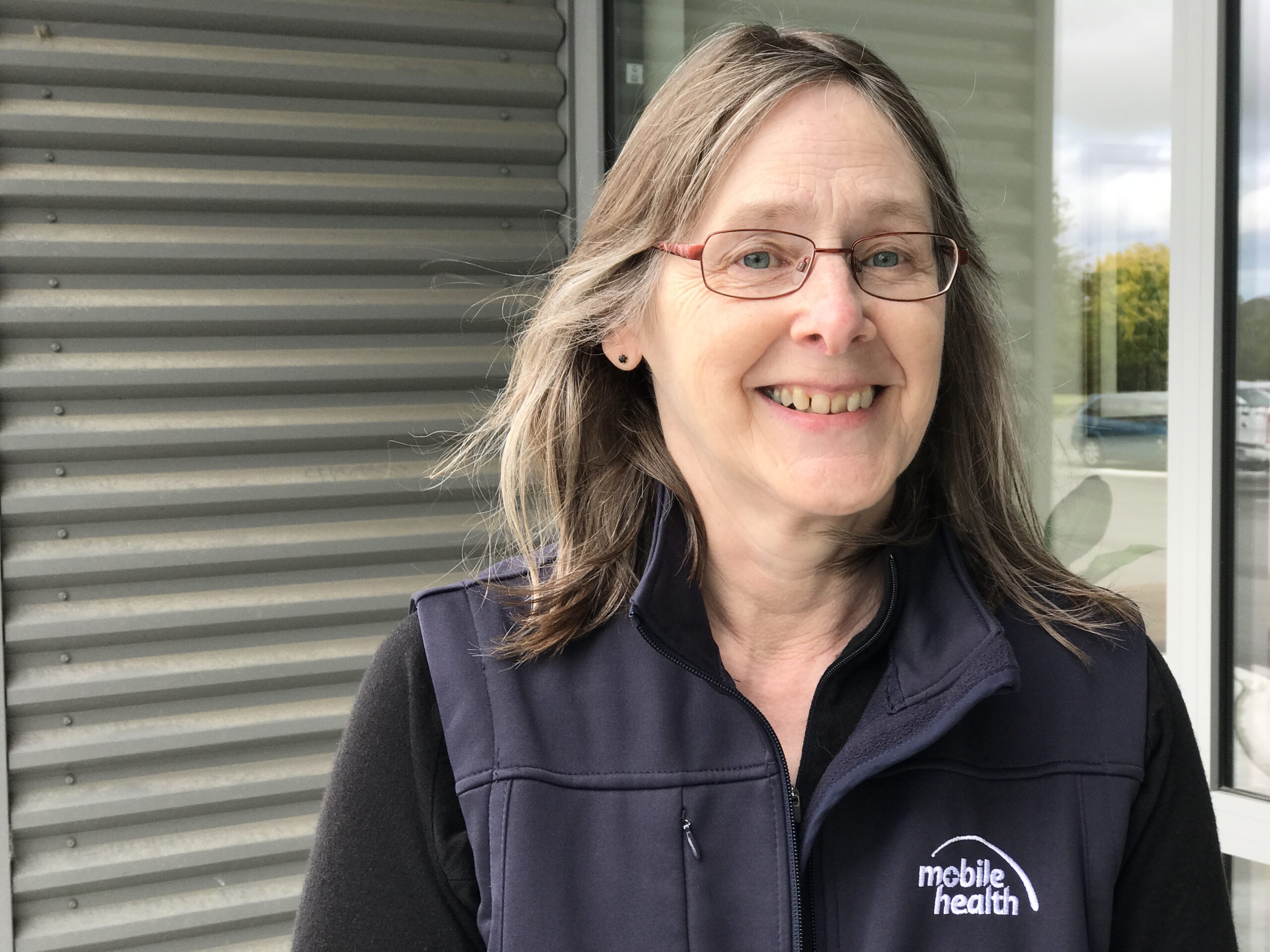 Anne Shirtliff (pictured right) is just one of many long serving staff who enjoys being part of the surgical team. She is a clinical nurse leader who has enjoyed working on the surgical unit since 2008; in this time she and the team have completed a remarkable 4,825 operations. She was the clinical nurse leader during David's operation and shares her thoughts on the importance of having a mobile operating theatre and the benefits it brings to patients in rural communities.
"As I was brought up in the country, and indeed still live rurally, I know only too well how isolating distance can be when you need help or need to attend doctor appointments. This can be particularly challenging for older folk and those with young families because of cost, transport arrangements, childcare worries and general upheaval to family life. So when the mobile surgical unit turns up in their local community, it can make a huge difference to their families and lives. They will still be getting the same quality service that they would have done in a main hospital, but are able to get back home to their families much sooner and in a more relaxed state, which I believe can only have a positive impact on their on-going recuperation," Anne says.
"All Kiwis deserve access to quality healthcare no matter where they live, so the fact that we can help by bringing our surgical unit to them, I know it is very much appreciated by the local communities, as they tell us this time and time again."
To read more about Mobile Health and the mobile surgical unit, visit our website www.mobilehealth.co.nz and read our patient news stories mobilehealth.co.nz/news.