Congratulations to our scholarship winners
With the rising demand for healthcare professionals, there is an urgent need to support and encourage young people who are passionate about pursuing a career in healthcare. One way to achieve this is by awarding scholarships to deserving students to help them further their education and training. Mobile Health partnered with Hauora Taiwhenua Rural Health Network to offer rural youth a scholarship which provides them with financial support to cover the cost of their education and other related expenses, enabling the recipient to focus on their studies and gain the skills and knowledge necessary to make a meaningful contribution to the industry. The selection process is highly competitive, and the recipient is chosen based on a combination of academic performance, passion for healthcare and potential for making a positive impact in the industry. Receiving the scholarship provides a significant boost to a young person's education and career aspirations in healthcare.
We would like to congratulate Seba Metzler, Lexi McQuaig, Ella St John and Emma Billings who have been awarded the scholarship valued at $5,000 each. The successful students submitted an impressive application which showed exceptional talent in their passion for healthcare, academic achievements and personal drive for extracurricular activities. They demonstrated a deep understanding of the industry and a commitment to making a positive impact, which made them a deserving recipient of the scholarship to further their studies.
Introducing Ella St John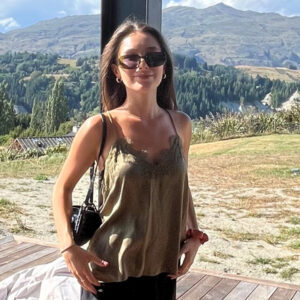 Ella St John (pictured above) from Queenstown is pursuing a Bachelor of Nursing at Otago Polytechnic. "Health and wellbeing of individuals has always sparked my interest and I always knew this was my future pathway," Ella says. "Living in an environment where our postcode can influence the chances of access to high quality health services motivates me to challenge this barrier." She is also excited about the opportunity to work on the Mobile Surgical Unit – Te Waka Hauora.
Ella is driven to succeed, and this is demonstrated by her various work experience which has allowed her to build a diverse set of skills and knowledge. She has demonstrated her potential by adapting to new environments and cultures, including working at Southern Cross Central Lakes Hospital, which provided her with an insight into a hospital environment. She is passionate about volunteering in her local community and has participated in several volunteer activities, including peer mentoring at Wakatipu High School; she has been an Open Evening Ambassador at Wakatipu High School on several occasions; a volunteer for the Queenstown Marathon, and surveying the community as part of the Queenstown Trails Trust.
Ella's journey is an inspiration to other young people who are looking to learn valuable skills, find a sense of purpose and fulfilment, and give back to their community.
Introducing Lexi McQuaig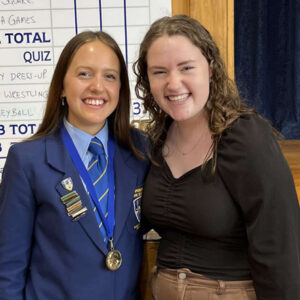 Lexi McQuaig (pictured above – left) from Hawera has a background of "cows and country" in a small rural community in South Taranaki. She says growing up rurally has taught her valuable lessons about "resilience, value of life and land, and that dirt washes off." With a passion to become a dietician, paired with her personal experience with food, means she has a natural gravitation towards nutrition and its importance to having good health. She has been involved in multiple work experience programmes to learn more about the industry, including shadowing clinical dietitian Judith Walsh at Hawera Hospital. "From a young age, I have always felt in my heart that I am destined to study health, and am still determined to do so despite all of the challenges in my life. It is my passion for people and good health that drives me in everything that I do," Lexi says.
She has proved to be a committed individual who has worked multiple jobs part-time since the age of 14 so she can financially support herself through university. She also adds several strings to her bow having been involved in various activities, such as Head Girl of Opunake High School 2022, volunteer gardening at the Opunake Cottage rest home, sole organiser of Opunake High School's 'Relay your way' event for Cancer Society Taranaki Future's accelerator programme, as well as participating in a boxing fight for Hawera Rumble 2022 to challenge herself mentally and physically.
Introducing Seba Metzler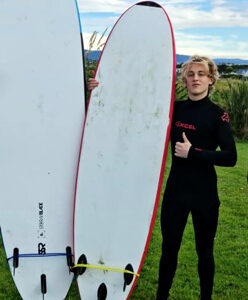 Seba Metzler (pictured above) from Gore is pursuing the Health Sciences First Year Course at the University of Otago after seeing first-hand how rural communities are facing health inequities. "Seeing this is what has driven my passion for medicine. I believe that I can help reduce the rural/urban divide by working to create access to good rural health outcomes," Seba says. "A career in medicine would enable me to engage with people from all walks of life and form a deeper and more meaningful outlook on the world we live in. The ability to improve the health and lives of my fellow humans is a significant factor in my decision to attempt medicine and would allow me to give back in a way that I can apply my interests. Growing up in a tight knit rural town I have seen the importance of being an active member of the community by giving back. A focus on rural medicine would enable me to give back to rural towns like the one that has given me so many opportunities."
Seba has numerous interests and personal hobbies outside of his academic studies which have provided him with important life skills, including dance since he was four years old. Not only is he passionate about his craft but he is also committed to continuous learning and growth; he has been a volunteer dance tutor since 2019 and enjoys connecting with others. His love for the stage led him to become involved in operatic societies across Southland and Otago, and he became a spokesperson for the Gore Council and Waka Kotahi's "Streets Alive" initiative. Seba was awarded the Gore Youth Award in 2019, and was awarded the 2022 Class Act award for outstanding excellence.
His story shows that by being open to new experiences and willing to step out of your comfort zone, you can discover your passions and strengths, and demonstrate your potential to the world.
Introducing Emma Billings
Emma Billings (pictured above) from Turangi is committed to completing her Bachelor of Midwifery with the goal to increase diversity and representation in her community. She is also the Māori and Pasifika winner of the Mobile Health scholarship. "Increased diversity and representation in healthcare are essential in seeing positive change in people's lives. In New Zealand, we are facing an extreme shortage of midwives and other health professionals. In particular, Maori midwives only make up 10 percent of the midwifery workforce. This data drives me in pursuing a career as a midwife to see specialised care that caters to the needs of women, babies and whanau with different cultural needs and practices," Emma says. "Ultimately I am drawn to pursue an education in health to create positive change in the lives of my community."
Emma has been involved in numerous activities in her local community including being a school prefect, one of nine on the national KidsCan NZ youth advisory group, a youth leader at St John's cadets teaching young children how to perform basic first aid, CPR and first aid skills, completed 150 community service hours at her local hospice shop, among many more. Her experiences have helped her develop a comprehensive perspective, which will be valuable as she continues her career.