We are pleased to provide an update on the progress of the four winners of last year's Mobile Health and Hauora Taiwhenua scholarship. Lexi McQuaig, Seba Metzler, Ella St John and Emma Billings all embarked on their university journeys with a thirst for knowledge and a quest to discover how their hands-on learnings will shape their future careers and make a real difference in rural New Zealand. It is encouraging to see how these scholars have flourished and we look forward to hearing more about their academic growth, and how they are making a mark in their chosen fields of study.
Lexi McQuaig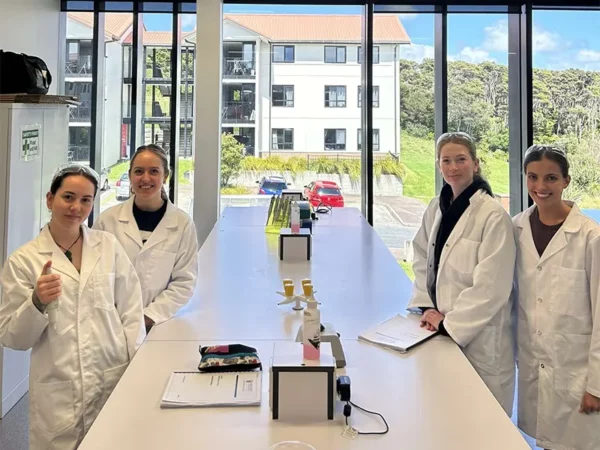 Lexi McQuaig's learning journey has not only expanded horizons but also delved into the depths of her understanding. Afterall, academic growth isn't merely about accumulating information; it's about grasping the connections, exploring the layers of knowledge and transform what is learnt into complex expertise.
Upon reflection of her first year, Lexi feels that she has been able to hone a comprehensive understanding of the subjects and cultivated perspectives that goes beyond the surface.
"The courses I have completed through my first-year Bachelor of Science have given me an insightful view of the world of general science, mathematics, anatomy/physiology, nutrition, biochemistry and climate action. The workload increases tenfold from good ol' NCEA in high school, but it is never a chore if you are self-motivated and passionate about what you study," she begins. "I've enjoyed the hands-on learning experiences in laboratory classes. These challenges have not only expanded my knowledge but also deepened my understanding of these subjects. For instance, dissecting a pig's head during my nutrition major was an unexpected yet valuable experience, showcasing the diversity and fascination inherent in a science degree."
"Beyond acquiring practical skills such as how to use all the technical lab equipment, calculate protein concentrations, draw squiggly lines and call it chemistry with the wonderful Prof. Debbie Jordan, slice and dice to work out exactly what makes us tick, and learning that despite common belief, vitamin C isn't likely to cure my cold, my time at Massey has been a personal growth journey. It has taught me how to adapt to life in a new and distant environment, far from my small hometown of Hawera in Taranaki. Additionally, I've learned the profound value of building meaningful relationships with like-minded individuals and embracing mistakes as an integral part of the learning process."
"One of the most rewarding aspects of this journey has been the opportunity to study alongside like-minded peers who share my enthusiasm for health and STEM disciplines and develop strong relationships with my peers."
"I'm immensely thankful to Mobile Health and Hauora Taiwhenua for awarding me this scholarship. Their support has equipped me with the necessary resources to pursue my dreams of becoming a dietitian away from home. While the path has not been without its challenges, having access to the right resources, loving what you are studying and having a sense of direction have made the journey unquestionably worthwhile."
(Pictured above L-R: Abby Hayward, Lexi McQuaig, Aimee Lawson and Olivia Treble in the Watson Science Lab at Massey University Albany campus during her biochemistry class)
Seba Metzler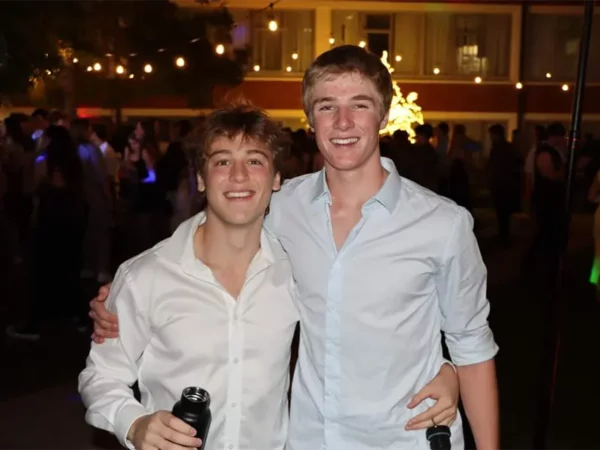 For Seba Metzler, his study has only intensified his passion and determination to pursue a career in healthcare. He is enlightened and excited about the journey ahead which holds the promise of making a tangible impact in the lives of others, driving the aspiration to be a dedicated healthcare professional.
"This first step in my journey towards a career in the health sciences has been everything I had hoped for and more. The Health Sciences first year course at the University of Otago has been an excellent introduction to the various facets of the health sciences and has been both inspiring and motivating," Seba says.
"The course has only furthered my desire to work within the medical field while also demonstrating the things to look forward to in the coming years. The opportunity to work with top-of-the-line lab equipment and learn from experts in their field has been an invaluable experience that I will carry with me for the rest of my personal and professional life."
"The University of Otago has been the perfect environment for both my academic and personal growth and I look forward to my potential future there."
(Pictured above right: Seba Metzler (left) with a friend at the Wine and Cheese event at Arana College)
Emma Billings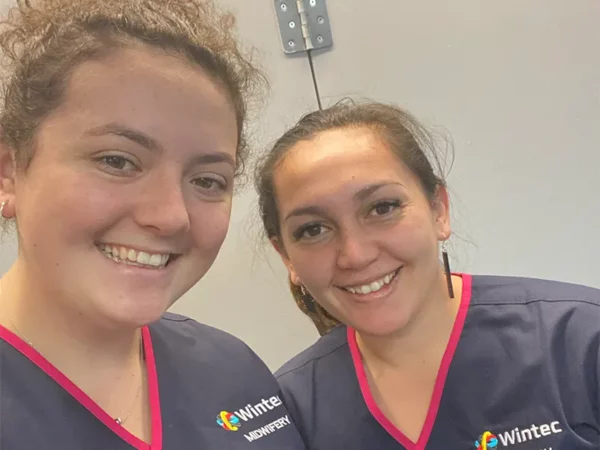 Emma Billings is studying a Bachelor of Midwifery at Waikato Institute of Technology in Hamilton. Although there are many highlights of her first year of study, overall, she feels that each lesson, experience and interaction has reinforced her passion for this profession and cemented a sense of purpose to support mothers and their whānau during one of life's most transformative moments.
"This year has been a massive year of learning and new experiences. Moving to a new city was quite an adjustment from my small hometown but I feel this has aided in my development. I have had an amazing year with my studies, and I know midwifery is where I want to be," she says.
"My overall highlight would definitely be the 125-hour placement I completed in semester two. I was placed with an LMC midwife and was welcomed by so many women and whānau to follow them along their journey of pregnancy, birth and postpartum. It was so awesome to use the skills I had learnt in class and bring these into a clinical space. Throughout this year my key learning has been the power of Whakawhanaungatanga and seeing this in my placement was truly magical."
"I am so thankful for the support of the Mobile health and Hauora Taiwhenua scholarship. This has eased some of the financial pressure that comes along with studying, and I couldn't be more grateful."
(Pictured above: Emma Billings (left) with her friend Ashley Brumby)
Ella St John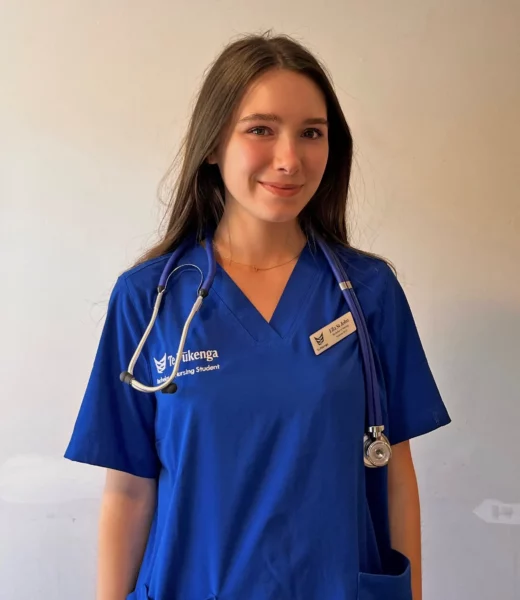 Ella St John, an aspiring nursing student, has enjoyed her transformative learning journey during her placement at Dunedin Hospital. The hands-on experience provided her with an opportunity to understand the multifaceted and diverse nature of the nursing field. Her time spent in a hospital setting exposed her to the impact nurses have on patients' lives, and the daily encounters saw Ella discover a love for making a tangible difference in someone's day. Her experience so far marks the beginning of her exciting journey towards becoming a registered nurse.
"Nursing this year has been an amazing experience. I have gained much knowledge through lectures, labs and my clinical placement. I now realise the complexities of healthcare and see how the blend of theory and practical skills helps to understand the profound impact nursing has on patients and view their wellbeing holistically," Ella says. "I've particularly enjoyed the hands-on experiences, from learning clinical skills to immersing myself in real-world scenarios during clinical placement on Ward 3 Surgical C pod in Dunedin Hospital. The 40 hours of placement went incredibly fast, and I absolutely loved every aspect of it. I found it so enjoyable chatting with patients, forming a therapeutic trusting relationship, and feeling as though your support can help change someone's day. I loved the feeling of making my patients smile and feel comfortable in such a different environment from home."
"My favourite part of this year was my placement, seeing all the nurses within different wards in Dunedin Hospital. It showed how varied the different areas of nursing can be. This left me feeling confident I can aim to specialise in my chosen area of a hospital or community setting. Going on placement allowed me to have a clear vision/goal for the next two years, and I can truly say I am beyond excited to begin the next two years and become a registered nurse in 2025."
(Pictured right: Ella St John on first shift of placement at Dunedin Hospital)